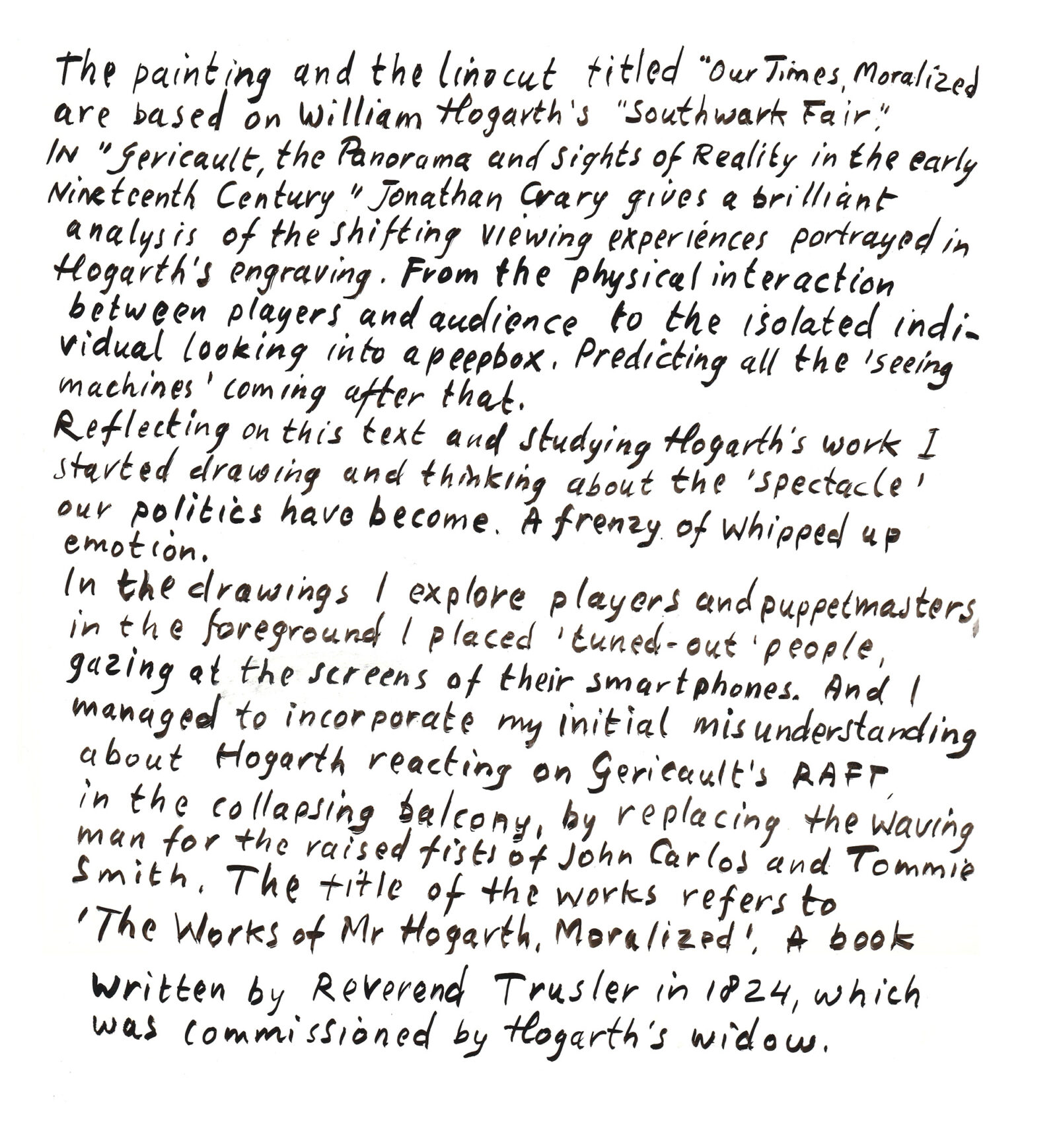 The painting and the linocut titled 'Our Times, moralized' are based on William Hogarth's 'Southwark Fair'. In 'Géricault, the Panorama and sights of Reality in the early nineteenth century' Jonathan Crary gives a brilliant analysis of the shifting viewing experiences portrayed in Hogarth's engraving. From the physical interaction between player and audience to the isolated individual looking into a peepbox. Predicting all the 'seeing machines' coming after that.
Reflecting on this text and studying Hogarth's work I started drawing and thinking about the 'spectacle' that our politics have become. A frenzy of whipped-up emotion.
In the drawings I explore players and puppet-masters, in the foreground I placed 'tuned-out' people gazing at the screens of their smartphones. And I managed to incorporate my initial misunderstanding about Hogarth reacting on Géricault's Raft in the collapsing balcony, by replacing the waving man for the raised fists of John Carlos and Tommie Smith. The title of the work refers to 'The Works of Mr. Hogarth, Moralized'. A book written by Reverend Trussler in 1824, which was commissioned by Hogarth's widow.
Our Times, moralized, painting 200 x 250 cm, acrylic and oilpaint on linnen and 30 coloured drawings. Collection van Abbemuseum, Eindhoven, a gift of the society 'Vrienden van het van Abbemuseum' as a celebratory present for its 25 year jubilee.