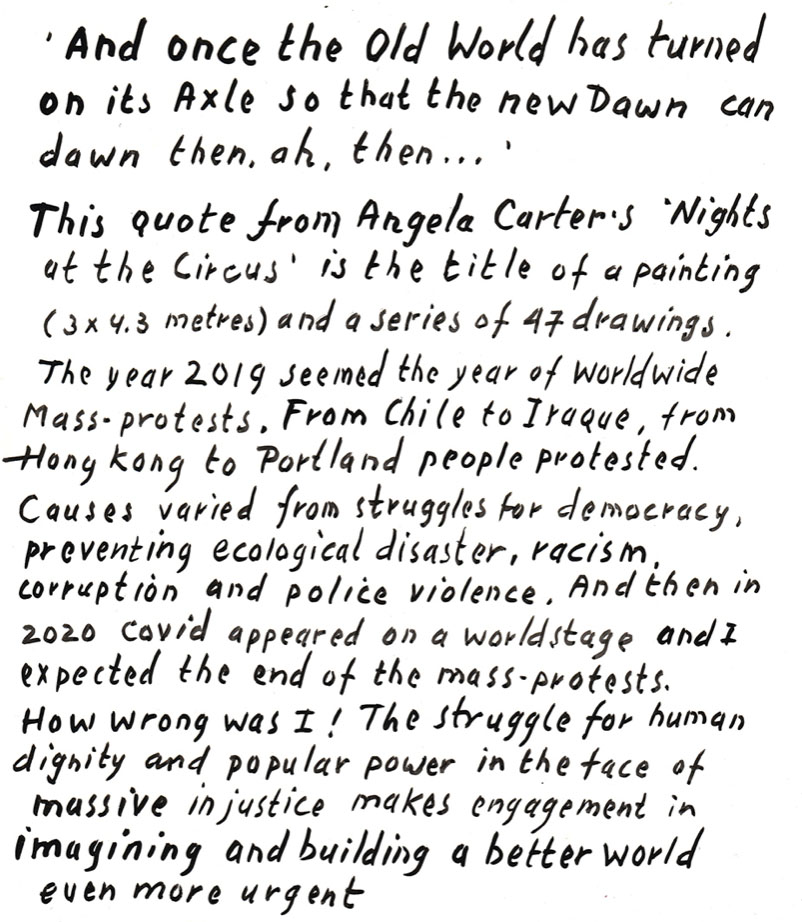 'And once the old world has turned on its axle so that the new dawn can dawn, then ah then…'
This quote from Angela Carter's 'Nights at the Circus' is the title of a painting (3 x 4.3 metres) and a series of 47 drawings. The year 2019 seemed the year of worldwide mass-protests. From Chile to Iraque, from Hong Kong to Portland people protested. Causes varied from the struggles for democracy, for preventing ecological disaster, against racism, corruption and police violence. And then in 2020 Covid appeared on a worldstage and I expected the end of the mass-protests. How wrong was I! The struggle for human dignity and popular power in the face of massive injustice makes engagement in imagining and building a better world even more urgent.
Bertrand Tillier wrote a beautiful essay titled 'Peindre l'Histoire du temps présent' on this work during the second lockdown and offered it to me as a gift. The original French text, with a Dutch and English translation is included in the catalogue I made.
And Once the old World, painting  300 x 420 cm, acrylic and oil paint on linnen and 47 drawings, 2020